Entertainment and Gifts at your Saskatchewan Event
by Corrina Rasmussen-Turner of Angry Monkey Cartoonz
Live Event Entertainer for All Ages
Event Caricatures of your guests make a unique, personal present for them to show off. Corrina has decades of experience taking faces from reality to the page, with a focus on portraits that bring out personality.
Unlike a balloon artist, magician, live band or other common event entertainment, a caricature artist provides a completely personalized artwork – while also being a fascinating experience to watch, participate in, or enjoy secondhand while appreciating your friends portraits for years to come. Corrina strives to provide an affordable service – and in hiring her at these spectacular rates, you'll be supporting a local artist. 
Corrina loves to sit with people who anticipate that final drawing, and their smiles when they see it finished provide the energy that keeps her drawing for hours on end.
Each drawing will be delivered as a physical piece of art, a timeless reminder of the event.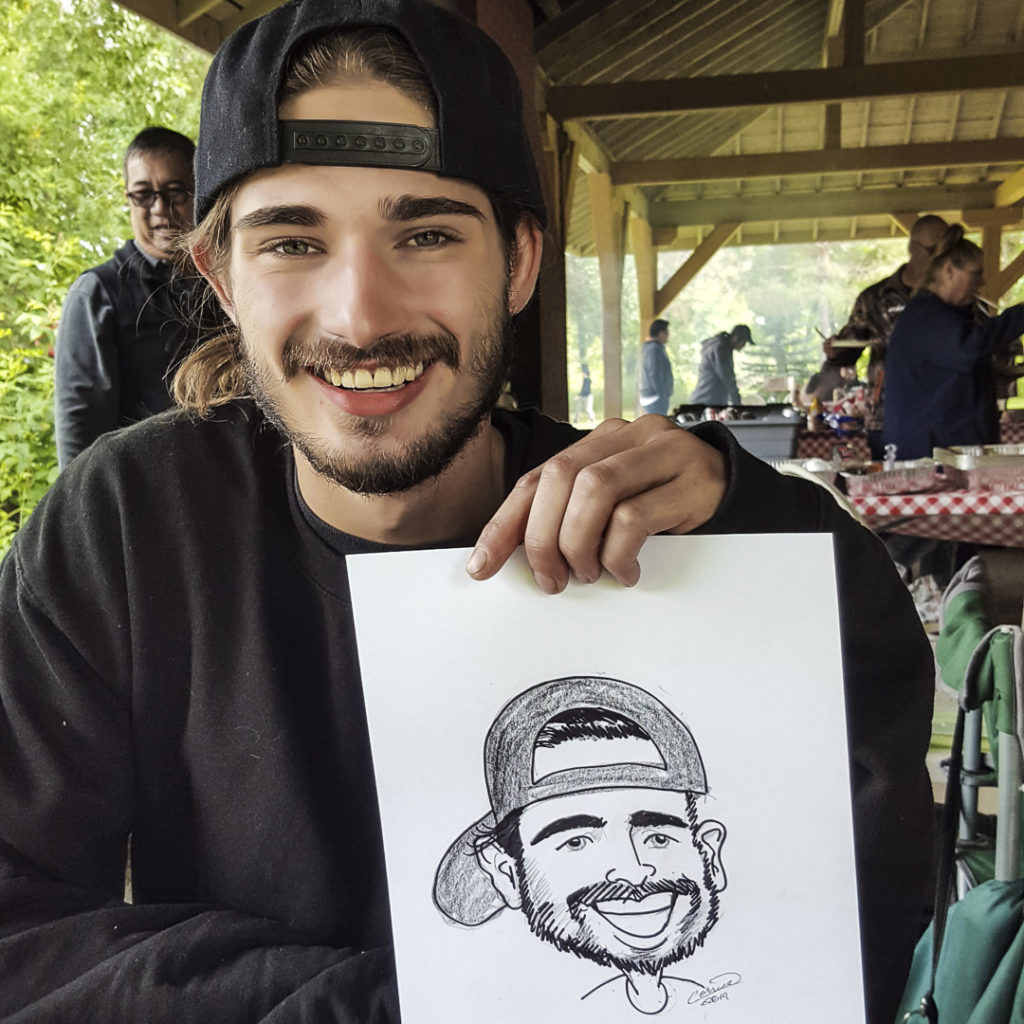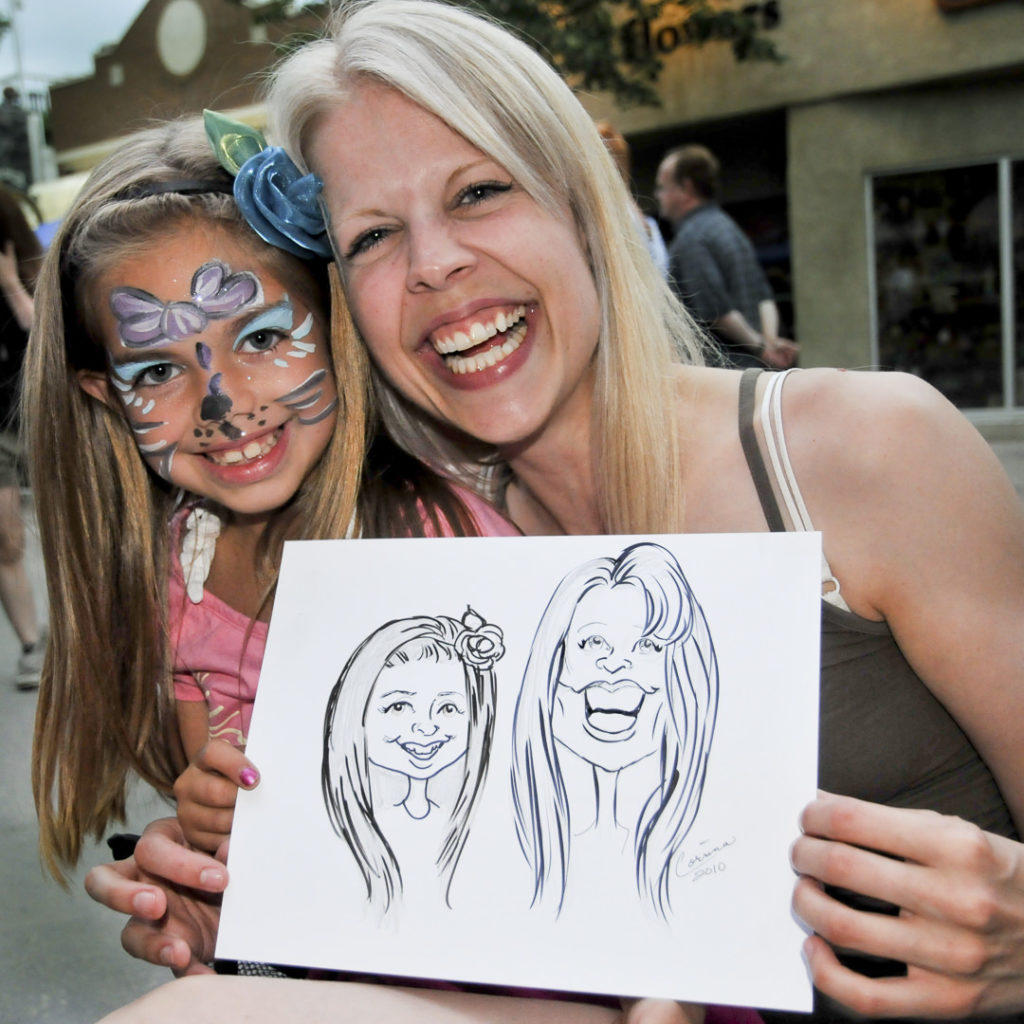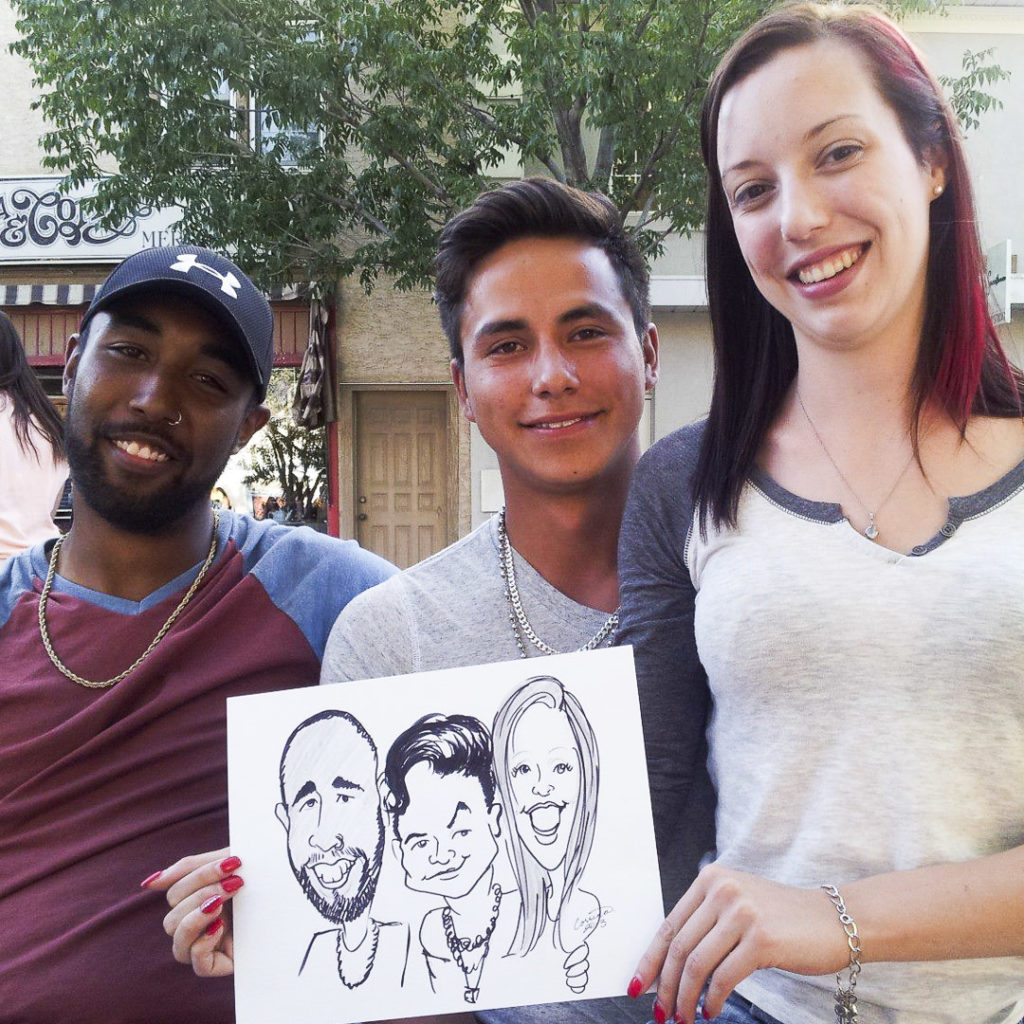 Three Great Reasons to Hire a Caricature Artist
Here's just a few reasons to include a caricature artist and their art in your next event, party, festival, or corporate function:
Unforgettable Experience 
An entertaining and engaging conversation with the artist makes this not just some boring time sitting around
Uniquely Personal
From hand drawn directly to your hand, a representation not just of your face, but your personality
A Wonderful Gift
As a physical item, traditional caricatures are a very special offering in an often purely digital world.
Booking all over Saskatchewan and beyond
I am including mileage fees for FREE
If lodging will be required, modest options will be billed, but all mileage fees for car travel around my home town of Saskatoon – including locations near Regina and Prince Albert – are mileage-free. Save hundreds of dollars on my dime!
Traditional Hand-Drawn Caricatures can be the centerpiece of all sorts of events. Here's a list of events that are perfect for caricatures.
Personal Parties and Events
Graduation, Anniversary
Adult or Children's Birthday Party
Bachelor and Bachelorette Parties
Marriage Proposal Party
Bar Mitzvah or Bat Mitzvah
Quinceanera or Sweet 16 Parties
BBQ, Banquet, or Reunion
Baptisms or Christenings
New Years Eve Party
Holiday Party
Christmas Party
Non-Profits may consider including a caricature artist for:


Fundraising

Church Events

Club Events

Political Events

Dry Grads, Prom

Elementary School Functions

High School Functions

Community Gathering
Businesses and Corporations
Caricature artists are ideal for Corporate Events and Commercial Gatherings such as:
Grand Opening
Work Anniversary
Team Building Office Party
Festival
Office Fundraiser
Christmas Party
Workshops
Conventions and Conferences
Golfing Event
Corporate Functions and Banquets
Trade Shows
Event Caricature
Experience
Party Favour, Entertainment, and Decor
Guests who are drawn within the time limit will enjoy an 8.5x11 portrait in Black and White

Pay a deposit of $125 to book your date
Additional
Hours
Coverage for your entire event
Price is per additional hour

Add Additional Hours as Required for $115+PST per hour up to 7 hours per day

BONUS: Hours After Midnight for no additional fee
Face Rate
For Events where the artist is a guest, not a paid entertainer
$
10
PER PERSON
PST INCLUDED
For festivals and events where the artist has NOT been booked for the Caricature Experience
OR
Where a charity is hoping to recoup some of the fee

8.5x11 Portrait in Black and White

Each portrait can be included with others, or as an individual

Each person's portrait takes 3-5 minutes
Letterhead Fee
Add Your Event Logo or Company Information
Guest caricature paper will be custom printed

Choose your logo and message in colour

Your logo or information will be tastefully included as part of the caricature art
I'm booking events in 2022 and beyond.
Here's how to get in touch: