Comic Convention
Entertainment and
Cosplay Portraits
by Corrina Rasmussen-Turner
of AngryMonkey Cartoonz
Comic Convention Entertainment and Cosplay Portraits
by Corrina Rasmussen-Turner of AngryMonkey Cartoonz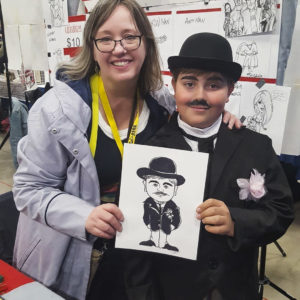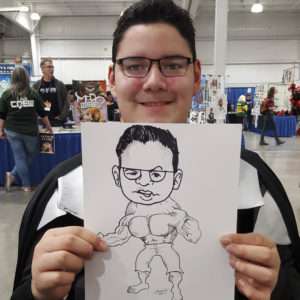 Nerd Out with a fellow Fan
Did you come to con in your very best cosplay? Create a memory with a custom caricature of you as your favourite character. Corrina will capture your cosplay in black and white – but if you want a colour version, consider getting your outfits immortalized as
Custom Art.
Didn't have time to dress for the event? Corrina has a variety of body types that can become you with some of her genius and a few strokes of her pen. Try on your favourite costume without breaking a sweat: Superheroes, Princesses, and more.
Check out the gallery to see tons more caricatures of superheroes, celebs and more!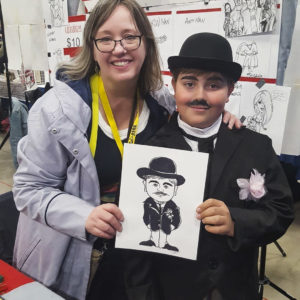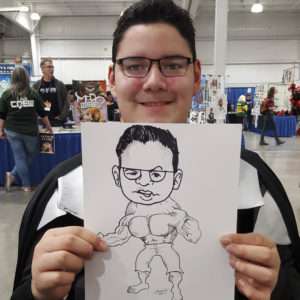 Create a Timeless Memory of your Costume
Corrina's Custom Comic Con Caricatures (wow, that's some alliteration!) are one of the highlights of the experience for attendees, especially the cosplay set. In fact, Corrina is an avid cosplayer herself – not to mention her many fandoms. Amid many comic convention vendors who sell you art that matches their personalities and fandoms – enjoy an affordable, personalized piece that matches yours.
Face Rate at Comic-Cons
For Black and White Caricatures
$
10
PER PERSON
PST INCLUDED
8.5x11 Portrait in Black and White

Each portrait can be included with others, or as an individual

Each person's portrait takes 3-5 minutes
Autographed Celebrity Caricatures
Getting caricatures signed by celebrities that she follows is one of her favourite things about Comic conventions. She's been collecting signatures on caricatures of the stars for years, and every new one is a treasure – especially when the stars love the art.  Check out Corrina in her Red Queen and 13th Doctor cosplay – amazingly she can still draw in every cosplay she wears!
"Excellent Caricature Artist!"
Corrina was friendly and fun to speak with. Thanks for the awesome work!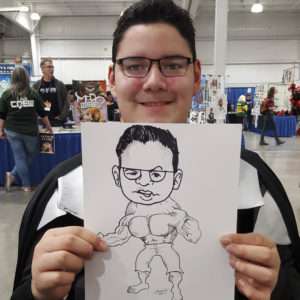 I'm booking events and custom caricatures in 2022 and beyond.
Here's how to get in touch: