Saskatoon Caricature Artist
Event Entertainment and Custom Illustration in Saskatchewan
by Corrina Rasmussen-Turner of Angry Monkey Cartoonz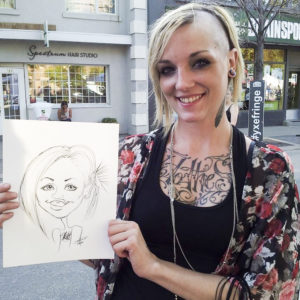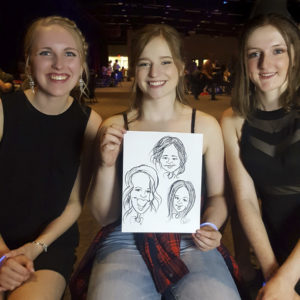 The Angry Monkey Welcomes You!
As a Saskatoon caricature artist, Corrina provides delightful caricatures and illustrations of people as custom art, or as event entertainment at weddings, parties, conventions, trade shows, and street fairs – indoors and outdoors! Corrina offers an amusing and pleasant experience, making it easy for anyone from infants to seniors to sit for a drawing. 
She also creates unique illustrations for any kind of print or online publication – such as Christmas cards, wedding invitations, birthday cards, brochures, websites, and custom art for display in physical or digital formats. 
Custom Caricature Art and Entertainment
Serving Saskatoon, Regina, Saskatchewan, Alberta, and worldwide online
Corrina has travelled all over Saskatchewan, bringing smiles to events, local festivals, and more.
Comic conventions are her favourite kind of event!
Hello! I'm Corrina Rasmussen-Turner, a caricature and comic artist based in Saskatoon, SK.
Have you ever thought about how much of who we are is reflected in our faces? I have! I am fascinated by faces and how teensy-tiny differences can alter our perception of a face and the personality that goes with it.
"A fun, enjoyable experience!"

I've had three caricatures done, all by Corrina. All of them were excellent and a fun, enjoyable experience! If you want an amazing, funny picture of yourself, it better be from Corrina and Angry Monkey Cartoonz!
Custom Caricatures and Illustration
Showcase your personality
Corrina's creative artistry produces high quality Caricatures, Cartoons and Illustrations for sharing anywhere, both in print and online. 
Your small business or corporation could benefit from a personalized card, social media avatar, or other custom illustration. Consider the impact of custom art in your next marketing campaign, share visual information in proposals or YouTube videos, and create a unique team roster for your company online.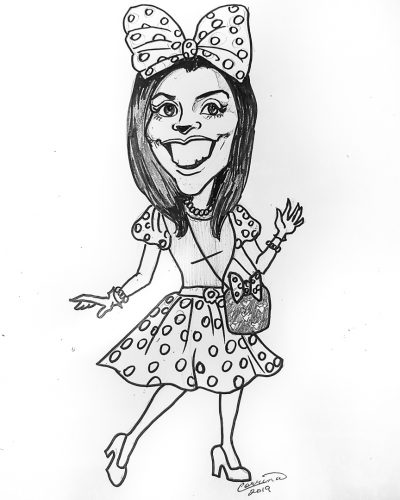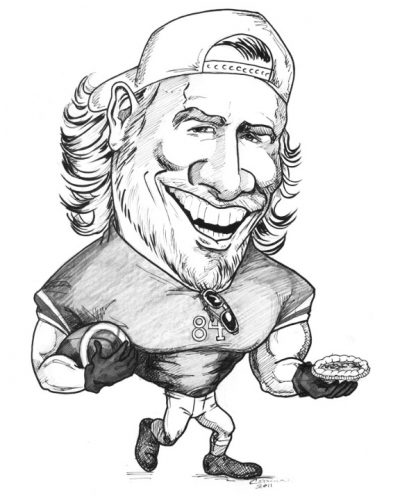 CARICATURES AT COMIC CONVENTIONS
Cosplay is one of Corrina's passions!
Corrina has travelled all over Saskatchewan, bringing smiles to events, local festivals, and comic conventions. 
Caricatures as Event Entertainment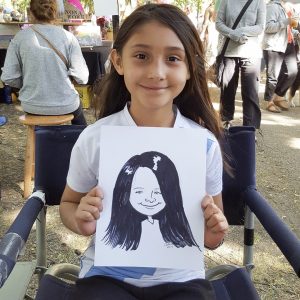 There are hundreds of events that could be improved on with a professional caricature artist in attendance to wow your guests. From festivals to reunions, religious events to birthday picnics, adding a caricature artist can transform them to something creative, entertaining, and special.
We would hire her again anytime!
So, so happy with Corrina! She was hired for a work function. She was on time, very professional and personable and extended her stay to ensure all employees got a turn. We enjoyed having her and would hire her again anytime. Definitely recommended!
The most unique wedding favour experience
If you're looking for a unique way to entertain your guests with a forever memory of your wedding, consider hiring Corrina to entertain and create at your reception. Not only will your guests receive a unique and personalized gift to keep, you'll also have a beautiful drawing of yourselves created to remember your wedding day.
She's your best choice for caricatures!
Corrina has drawn incredible caricatures for me with my family, for my business, and as a cosplayer. I don't always love images of myself, but Corrina has a knack for really capturing some of who I am. Not to mention the speed, professionalism, and entertainment value of working with her. She's a total hoot to spend time with, too.
I'm booking COVID-safe events and custom work in 2022 and beyond.
Here's how to get in touch: