Frequently Asked Questions about Custom Artwork and Events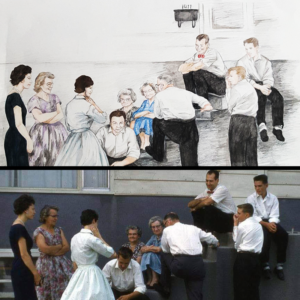 What's some history behind Caricature art?
Caricatures were used prominently for political pamphlets and satirizing royalty or politicians during times of war or revolution. Many famous artists, such as Da Vinci and Picasso, have begun their career by drawing caricatures. Magazines and social media often use caricatures to highlight parodies of movies, celebrities and politicians.
How did you find out you were good at caricature art?
My father worked as a commercial artist, and often gave me art lessons when I was a child. I discovered comics and caricature art around age 10, and copied artist's work from magazines and various publications.
How do you draw a caricature?
My process involves collecting several image references and then drawing a quick portrait sketch to decide proportions and features. I look for the features and details that are unique to the individual, such as a longer nose or smaller eyes, etc. I adapt the amount of exaggeration based on age and personality of the person sitting for me. For example, I never use an extreme exaggerated caricature for children, as they're just too fun to draw in an exaggerated way!
What kind of caricatures are there?
Caricatures can be used for all types of publications, entertainment websites, and parody magazines. Drawings can be very simple or complex, and depends on the artist's particular style. They can range from a gentle, amusing portrait to an extreme exaggeration. Corrina adapts the style to whether she is drawing at an event, or creating caricatures from photographs.
What is a pre-designed template?
To help the artist serve more people at an event, or to help the young and young-at-heart see themselves as superheroes or other awesome things, an artist will pre-draw some unique bodies, and then fill in faces and heads only.
Custom templates with your branding or a personal message to guests can be included in every drawing, and displayed proudly by your friends or clients. We'll ask for everything needed to make this happen and get the pages printed for your event. Samples available on request.
Black and white caricatures drawn on the spot take about 8 minutes for one person, 10-15 minutes for two people. 5 people on one page is the recommended maximum. Colour caricatures require more time, and are done using photographs as reference.
How big are the caricatures you draw?
Minimum size is 8.5×11. Sizes go up from there, depending on how many people are featured in the drawing. An 11×17 is a common larger size.
All my pricing is available on the individual pages for each type and style of work. If you need more information, let me know.
A caricature artist at events such as company picnics or weddings are often free for the guests and paid for by the host. When I appear at comic conventions, for eg., caricatures are paid for by the individual requesting the caricature.
Tips are welcome, but certainly not required. If you love your caricature, express your gratitude with a tip you feel is appropriate and it will be warmly received. A caricature artist will always appreciate your enthusiastic laughter to the caricature, however! 
I hope I've answered your questions!
If not, I'd be very happy to talk to you about caricature art and events anytime, simply get in touch.
I'm booking COVID-safe events and custom commissions now.
Here's how to get in touch: